Main Uses

European Oak has a wide range of uses and is available in a wide range of sizes and grades which gives European Oak an almost unparalleled versatility, allowing Architects and Designers to design innovative and truly beautiful buildings in the knowledge that they are using a durable, sustainable and environmentally friendly material.

European Oak's renewed popularity as an external cladding solution has enabled us to work with various mills throughout Europe in order to ensure that Vincent Timber offer a range of products ideally suited for use in this sector and our in house expertise and advice has assisted many Architects in the pursuit of their vision.

A recent innovation in production methods has also brought a Finger Jointed option, offering a cost effective and even more sustainable and environmentally friendly product to the market.
European Oak

Quercus robur (Q. pedunculata) and Quercus petraea (Q. sessiliflora) Hybrids between these two species are common.

European Oak offers a golden yellow brown appearance and has distinctive grain with annual growth rings clearly visible on crown cut boards. Quarter cut boards will have distinct silver grain figure due to the broad rays.

European Oak is generally straight grained, hard wearing and durable offering a very attractive cladding solution.

European Oak will weather to a natural silver colour if left uncoated.

However if you wish to apply a coating see notes on tannin staining below.
The lofty oak from a small acorn grows...

Vincent Timber's European Oak can be supplied as solid or finger jointed.

Our European Oak is only sourced from managed forests, offering sustainable options in PEFC Certified material.

Our suppliers ensure that the European Oak is selected for the highest quality and well seasoned, ensuring that our cladding will be supplied to the desired quality and ready to be installed.

Our range of European Oak cladding solutions compliments Vincent Timber's fast expanding range of external cladding options, and with our vast knowledge and experience Vincent Timber can assist our customers to design and produce attractive, sustainable and cost effective cladding solutions.

Don't settle for anything less than the best, Vincent Timber European Oak specify it by name.
Colour
Yellowish to Golden Brown, ages to silver grey if left unprotected.

Grain
European Oak is generally straight grained, but can vary with growth conditions. Has characteristic ornamental silver grain, due to broad rays when quarter sawn.

Strength
European Oak has well known and high strength properties, although slightly lower than European Beech.

Working Properties
Due to its acidic nature it tends to corrode metals. A blue black stain can appear in contact with metal, especially in damp conditions. Stainless steel fixings are recommended. In general Oak finishes well and can be stained, polished, waxed and glued satisfactorily.

Durability:
Heartwood is durable

Moisture:
10 to 14% when kiln dried.
22% or higher when air dried.
Fresh Sawn / Green - Wet (high moisture content)
The timber is approximately 18 to 22% moisture content when finger jointed.

Moisture Movement: Medium
Density: 720 kg per m3 @ 12% moisture content
Uses: Cladding, Decking, Beams, Louvre Blades, Joinery and Furniture

European Oak - Grades Available - (Solid Timber Only)
Prime Grade - Infrequent small pin knots only, sapwood not accepted.

Light Character Grades Only - small knots only (up to 25mm diameter), sapwood not accepted.


Based on a maximum nominal section size of Ex 25 x 150mm


Finger Jointing - the Benefits

Finger Jointing is not a new process. Traditionally the volume used was generally softwood to re-grade or provide set lengths, normally for battens or timber which was to be painted and not for visual application.


Today waste and sustainabilty are as important as appearance in many of our building projects. The finger jointing allows unacceptable defects to be removed and any lengths up to 6.1mtrs can be produced. Individual European Oak pieces 200mm in length and upwards can be jointed.


This allows us to provide our customers with specific lengths, not only reducing waste, but providing specific length specifications which can assist greatly with vertical installation and panel fabrication, horizontal installation also benefits as cross cutting on site can be avoided as all boards are accurately trimmed and can be butt jointed with no issues.


The Finger Jointing process ensures that a greater yield is taken from felled logs, thus reducing the volume of felled trees and utilising sections of timber which would otherwise be disposed of.


Higher quality is achieved by defect cutting, producing high quality almost defect free timber.


Finger Jointed European Oak is Kiln Dried and can be stained or painted. FR Treatments are made easier due to removal of defects usually responsible for degrade.


The glue used is a D4 RF / W external glue conforming to BS 4071, creep and water resistant, EN204 D4.


Vincent Timber Finger Jointed European Oak is available with PEFC certification giving architects total confidence to specify its use. In increasingly high demand, this durable hardwood is fast becoming the sweet alternative to traditional solid hardwoods.


Please contact our sales office for further details of prices and profiles available.


Fixing European Oak External Cladding
Screws are the preferred method of fixing for hardwood boards.

Stainless Steel screws are preferable and essential for timbers installed "green".
Slight over drilling of the screw holes will allow for any movement in the wood and prevent splits.
Where "green" wood is used, it may be necessary to fit washers to the screw to maintain the fixing security. This can be used as a design feature.
Screw fixings should be at least 40mm from the end of the boards to avoid splitting.
Tannin staining
Tannin staining is a discolouration phenomenon which occurs when timbers have a high natural extractive content such as Oak, Sweet Chestnut or Western Red Cedar. Water-soluble extractives are capable of migrating to the surface where they can cause discolouration, this also has to be considered when conventional coatings are to be applied.

The problem can be widespread occurring over the entire surface of the facade of certain species or restricted to localised areas of high extractive content such as knots.

In extreme cases the migration of tannins can result in the discolouration of large areas of mortar or cement render immediately beneath the facade as a result of water run-off.

When considering an applied coating, coatings which exhibit high vapour permeability such as oils and some translucent coatings tend to be most prone to extractive staining.

The problems of extractive discolouration can be minimised by exacting greater control over the uptake of moisture in service through better design detailing features or protecting areas which will be vulnerable to water run-off.

In order to remedy affected areas Oxalic Acid can be used to remove Tannin Stains from these affected areas.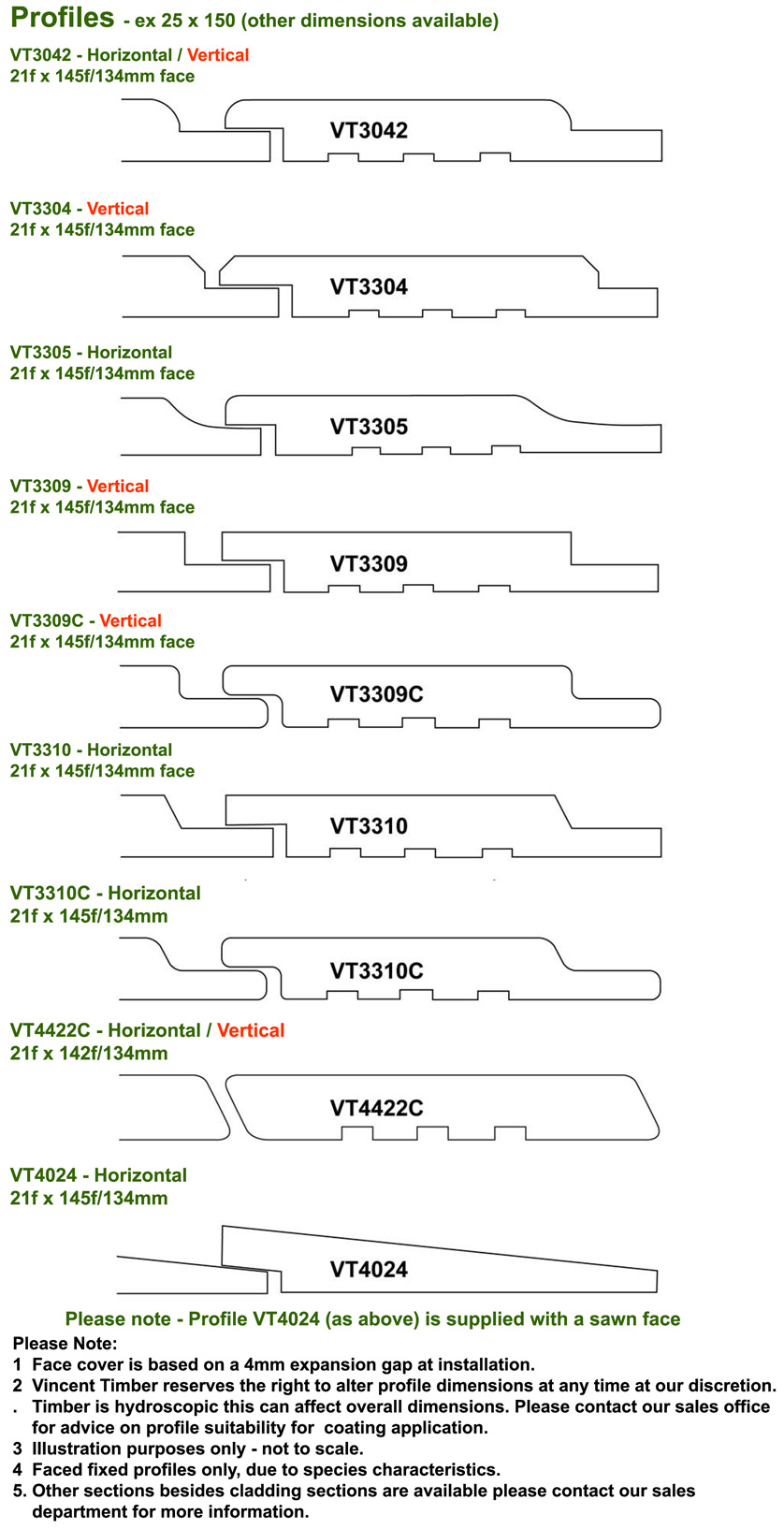 Sizes are accurate when timber is machined. Timber will move during different climatic changes for which we have no control over whatsoever. We reserve the right to amend profile dimensions without notice. Please check current dimensions with our sales office if you are matching up profiles that have been supplied in the past.