THERMOWOOD® DECKING IS A RICH GOLDEN COLOUR SIMILAR TO THAT OF HARDWOOD WHICH IF LEFT UNTREATED WILL FADE TO A SILVERY GREY ONCE EXPOSED TO THE ELEMENTS.

THERMOWOOD® DECKING IS HEAT TREATED TO CLASS THERMO-D AT TEMPERATURES OF 212°c MAKING IT SUITABLE FOR EXTERNAL USE.
THERE ARE THREE MAIN PHASES TO THE TREATMENT PROCESS:
| | |
| --- | --- |
| 1. | USING HEAT AND STEAM THE TEMPERATURE IN THE KILN IS RAISED TO 100&deg:c. THEREAFTER THE TEMPERATURE IS RAISED TO 130°c ALLOWING THE DRYING PROCESS TO TAKE PLACE AND THE MOISTURE CONTENT DECREASES TO ALMOST ZERO. |
| | |
| --- | --- |
| 2. | ONCE ThE DRYING HAS TAKEN PLACE THE KILN TEMPERATURE IS RAISED TO 212°c AND THIS CONSTANT TEMPERATURE REMAINS FOR 2-3 HOURS DEPENDING ON THE END USE APPLICATION. |
| | |
| --- | --- |
| 3. | FINALLY THE TEMPERATURE IS LOWERED WITH WATER SPRAY SYTEMS. WHEN 80-90°c IS REACHED RE-MOISTURISING TAKES PLACE ALLOWING THE WOOD MOISTURE CONTENT TO RISE TO A USEABLE LEVEL OF 4-7%. |
GENERAL MAINTENANCE INCLUDING REGULAR CLEANING WITH A MILD DETERGENT WILL EXTEND THE LIFE OF THERMOWOOD® DECKING.

TO MAINTAIN THE RICH COLOUR, TREAT THE THERMOWOOD® ANNUALLY WITh A DECK OIL OR STANDARD PRESERVATIVE DECK TREATMENT.
THERMOWOOD DECK BOARDS CAN BE FIXED WITH STANDARD DECK SCREWS OR CLIPS

IF CUT, SAWN ENDS SHOULD BE RE-TREATED WITH A SUITABLE TIMBER PRESERVATIVE

SUPPORTS SHOULD BE SET AT A MAXIMUM OF 400mm CENTRES. A SLIGHT FALL SHOULD BE INCORPORATED INTO THE DESIGN TO HELP IMPROVE DRAINAGE
Nominal
(mm)
Finished
Dimensions (mm)
Length
(m)
32 x 125

26 x 118

3/3.3/3.6/3.9/4.2/4.5/4.8/5.1/5.7



USING 125mm WIDTH NOMINAL SIZE DECK BOARDS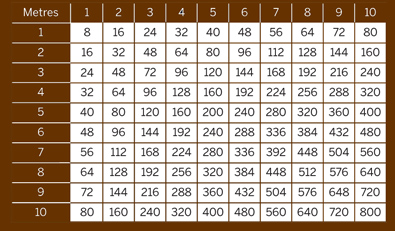 ACCORDING TO EN13501 (SBI TEST) THERMOWOOD® IS IN A REACTION TO FIRE CLASS D. IT IS POSSIBLE TO TREAT FURTHER WITH FIRE PROTECTIVE TREATMENTS IN ORDER TO ACHIEVE FIRE CLASS RATING 1 SPREAD OF FLAME.


THE PRODUCT HAS A MOISTURE CONTENT OF 5-7% (50%RH) WHEN PACKED IN PRODUCTION.

THIS LEVEL WILL CHANGE ACCORDING TO ATMOSPHERIC CONDITIONS.