GRASSEDECK® PRO HAS BEEN INDEPENDENTLY TESTED TO BS 7976 PART 2 TO CONFORM WITH UK SLIP RESISTANCE GUIDELINES AND IS RATED AS PROVIDING 'LOW POTENTIAL FOR SLIP' IN BOTH WET AND DRY CONDITIONS.
GENERAL MAINTENANCE INCLUDING REGULAR CLEANING WITH A MILD DETERGENT, TOGETHER WITH THE RE-COATING OF TIMBER COMPONENTS AND THE RE-APPLICATION OF ADHESIVE AS REQUIRED, WILL EXTEND THE SERVICE LIFE OF GRASSEDECK® PRO.
DECK BOARDS CAN BE FIXED WITH STANDARD DECK SCREWS OR FIXINGS. IF FACE FIXING, GREEN COLOURED DECKSCREWS WILL BE LESS VISIBLE ON THE DECK SURFACE.
IF CUT, SAWN ENDS SHOULD BE RE-TREATED WITH A SUITABLE TIMBER PRESERVATIVE AND ADHESIVE OR MECHANICAL FIXINGS MUST BE USED TO ENSURE THE GRASS IS SECURELY REAFFIXED TO THE TIMBER DECK BOARD.
SUPPORTS SHOULD BE SET AT A MAXIMUM OF 400MM CENTRES. A SLIGHT FALL SHOULD BE INCORPORATED INTO THE DESIGN TO HELP IMPROVE DRAINAGE.
USING 150mm WIDTH NOMINAL SIZE DECK BOARDS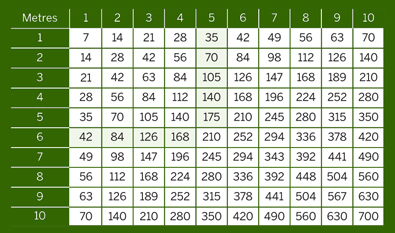 GRASSEDECK®PRO BOARD

Nominal
(mm)
Finished
Dimensions (mm)
Length
(m)

Code
32 x 150

28 x 144

4.5

156995



TIMBER

Dimensions

32 x 150mm nominal / 28 x 144mm finished
Species

European Redwood / European Whitewood
Botanical name

Pinus Sylvestrus / Picea Abies
Origin

Finland
Certification

PEFC / DeckMark Plus Approved
Description

Rebated on face to allow for artificial grass, grooved on reverse
Guarantee

15 year guarantee against rot and fungal decay
GRASSE

Life expectancy

15 years
Fibre

100% Polyprop. /2.200 dtex /Curled
Production method

Tufting
Gauge

3.2mm
Stitches

29/10cm
Tufts

91.350 /m2
Grasse dimensions

12 x 112mm
Pile height

12mm
Pile weight

810g/m2
Total weight

1760g /m2
Tuft cloth

Polypropylene woven 110g /m2
Colour

Fern Green
Backing

Precoat, 500g /m2 Latex Compound
Light fastness Scale

7 (DIN 54004)
UV stability

>2,500 hours (DIN 45004)
Chlore resistance

4-5 (DIN 54019)
Resistance to sea water

4-5 (DIN 54007)
ADHESIVE

Trade name

Aro-Seal 1152
Article number

ER012101-00
Durability

Exterior grade (15 years life expectancy)
Application method

Pressurised multi head applicator
Rate of application

7 x 5mm bead in line spread pattern